2015 Annual Meeting: Data Stewardship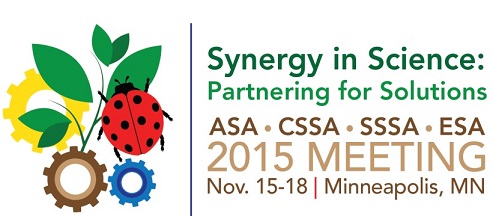 Think Synergy in 2015
As we all prepare and plan for the 2015 Annual Meeting, remember the theme "Synergy in Science: Partnering for Solutions." It offers a perfect guideline for meeting preparation and for all our agronomic endeavors in 2015. And remember, in most cases the most impactful place to partner is at the data level.
Farm profitability, nutrient loss reduction plans, soil health, food chain sustainability, and adaptation to climate variability are just some of the issues we face in 2015 and beyond that all are connected by agronomic fundamentals. That connectivity and the need for management solutions to address multiple issues leads to team approaches, whether doing science or applying the products of science. Synergy in those teams leads to greater impact than the sum of the individual contributions.
Data Stewardship for Evidence-based Management is envisioned as one of the important threads of the 2015 meeting. We provide here some thoughts on how sections, divisions, and communities might incorporate this topic into their 2015 program planning.
Why is data stewardship (DS) important to scientists and practitioners?
Relevant high quality data sets are expensive to generate but often under-utilized due to insufficient metadata or limited access that worsens with time.
Data stewardship can enable data repurposing and facilitate data aggregation from disparate, initially unrelated studies into a cohesive understanding.
Technologies such as GPS, GIS, smart phones, sensor networks, internet, and updated services (imagery, weather) have created new opportunities associated with data and meta-data.
Real-time agricultural management as well as climate change mitigation and adaptation will be facilitated by structured data sets connecting observations to climatic circumstances.
Great opportunity seems to exist for scientific data to better facilitate appropriate use of the explosive generation of agricultural data and the associated "big data" connections.
The market place and supply chain are demanding data-based evidence that agricultural products are produced sustainably (will be the focus of the 2015 opening session).
A policy memorandum from the Office of Science and Technology directs federal agencies with more than $100 million in research and development funding to develop plans to make results from scientific research publicly available, including digital datasets.
Private sector research funding sources are moving toward requiring data be submitted to open access data repositories. Examples include the 4R Research Fund and the Agronomic Science Foundation Sustainable Research Program.
Momentum is building for viewing high quality data sets as primary products across all disciplines of science.
What is data stewardship?
Data stewardship encompasses all activities that preserve and improve the information content, long-term accessibility, and usability of data and metadata (after NOAA, 2007).
How can sections, communities and divisions interested in DS contribute to this theme during the 2015 Annual Meeting?
Encourage attendance at the "Data Stewardship for Evidence-based Agriculture" general session, jointly sponsored by ASA, SSSA, CSSSA, and ESA, that is tentatively planned for Monday morning following the Society breakfast meeting. Dr. Kay Dickersin, Director of the US Cochrane Center, will be the keynote speaker. She will be followed by one or more speakers from within the meeting Societies who will assess the current status of DS and practical applications in agronomy, crops, soils, and entomology.
To the extent possible, avoid scheduling symposia or other sessions during the Monday morning general session.
Promote the DS workshops planned for Sunday on data life cycles, data standardization and planning, data plan implementation, and data publishing and curation.
Organize discipline-focused symposia featuring successful DS applications or opportunities and challenges. Examples:

Symposia featuring knowledge gained from systematic reviews or meta-analyses on a specific topic. Examples:

Published examples: Insights into Genotype × Tillage Interaction Effects on the Grain Yield of Wheat and Maize; Corn Response to Nitrogen is Influenced by Soil Texture and Weather; Productivity Limits and Potentials of the Principles of Conservation Agriculture
Numerous other potential topics such as cover crop efficacy, specific pesticide resistance, drought tolerance, etc.
What SRs or MAs are needed for your discipline and why?

The systematic review process

What IS the process of an SR/MA and how does it differ from a standard review.
Alternatives to MA for analysis of reviews
Is there a need to adapt the PRISMA statement to agriculture?
Semantic wiki for open data contributions and centralized repositories

Existing or developing data repositories relevant to your discipline
Systematic input recommendations that are connected directly to research datasets. Example:
Numerous DS topics associated with precision ag – including those relating to how research data sets can better connect with farm data sets and the big topic of Big Data
Private/public sector collaboration in data repository development and enrichment
Evidence-based sustainability metrics for agricultural/cropping systems.