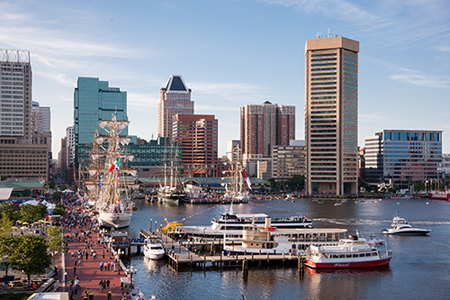 There's plenty to enjoy in Baltimore!
Baltimore is famous for its beautiful waterfront, world-class museums, one-of-a-kind attractions, three centuries of history, and much more. Baltimore's Inner Harbor is an attraction in itself.  Surrounding this urban waterfront park, you'll discover a number of family-friendly places to visit. 
The Baltimore Visitor Center is located at 401 Light Street, open 7 days a week,10:00 am - 5:00 pm.
Show your Badge  
Take advantage of Baltimore's Show Your Badge program to save at a wide variety of eateries and attractions near the convention center.  
Baltimore Attractions
See the world from below the surface at the National Aquarium.
Go wild at the Maryland Zoo.  
Marvel at the best view of the city at the "Top of the World" Observation Level.
Historic Ships in Baltimore represents one of the most impressive collections of military vessels in the world.
Fort McHenry played a crucial role in the Battle of Baltimore and is the birth place of the "Star Spangled Banner".
Check out Baltimore's Historic, Hip and Trendy Neighborhoods.
Power Plant Live! features a variety of restaurants and nightclubs surrounding a common plaza.
Getting Around Baltimore
The Charm City Circulator provides a free, fast, convenient and energy-efficient way to move about Baltimore's downtown area. Clean-energy buses run various routes in and around downtown Baltimore. The Charm City Circulator runs 10 minute headways between buses.    
Baltimore Water Taxi offers a unique way to see Baltimore with an unforgettable maritime experience. Stops are conveniently located adjacent to some of the city's premier landmarks create a convenient transportation option to explore the city's Inner Harbor.  An all day pass for adults is $14, $6 for children (3-12).  
View routes
Taxi Service
Taxi service is available at the nearest hotel or by contacting a taxi company directly. 
Yellow and Checker Cab of Baltimore leads the nation in introducing hybrid taxis into their fleet. They are committed to reducing emissions and their carbon footprint while providing excellent service.   Book your trip back to BWI Marshall Airport for flat rate of $30 (no limit on number of people). 
(410) 685-1212
 
baltimore Restaurants
From finding the best crab cakes to detailed restaurant information, prices, menus and so much more, check out Baltimore restaurants and eateries.
Enjoy unique shopping and dining at Harborplace and The Gallery.
Dine in style at Baltimore Inner Harbor Restaurants.
There is no endorsement intended by ASA or CSSA for attractions, products, services, or vendors mentioned on these pages, nor is any criticism implied of similar attractions, service, or vendors not mentioned.