Career Center and Graduate School Forum
Career Placement--Jobs in Agronomy, Crops, Soils, Environmental Sciences

Career Center at the Annual Meeting         
Registration Opening in Spring 2018!
Job seekers: Connect with jobs, internships, and fellowships in academia, industry, government, and non-profit sectors at the Career Center. Meet with potential future employers to learn more about opportunties. Read the multitude of jobs posted on bulletin boards within the Career Center.

Employers: Participate in the Career Center and find the next great member of your team. Reserve a table and meet face-to-face with attendees interested in new employment opportunities. Share information about your organization and any job openings available; interview prospective candidates on site. Post your online positions and we'll print and place them on our Career Center bulletin boards for all to view.
Graduate School Forum
Registration Opening in Spring 2018!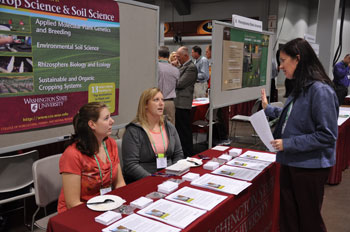 University representatives: Reserve a table to interview prospective students, promote your school and department, and discuss assistantships and fellowships. The Graduate School Forum is conveniently located in the Exhibit Hall near the Career Center.
        Reserve your display table for the entire meeting with one low price
        Promote your school & department
        Interview prospective students
        Discuss assistantships & fellowships
        Enjoy a relaxed, informal atmosphere
        Work next to the Career Center
For more information, contact
     Rebecca Polk
     Manager, Membership Programs, Marketing and Communications
     608-268-3972
     rpolk@sciencesocieties.org
We look forward to seeing you in Baltimore!