Graduate Student Program
Why should you attend? Learn all about it in under 2 minutes in this ASA video!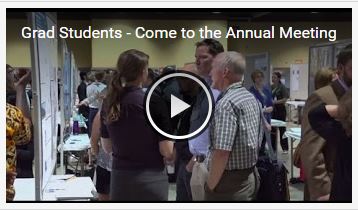 STUDENT INTERNSHIPS
Deadline extended.
New sign-ups will be placed first come - first served.
Want to contribute to the success of the annual meetings and earn cash? Sign-up to help ASA, CSSA, SSSA staff with various meeting activities. Sign up will open in the summer.
The internship program is open to post-docs, graduate, and undergraduate student members of the Societies. Nonmember students wishing to become a member may join at agronomy.org, crops.org, or soils.org. Membership is available at a low cost to students. Please join by September 22, 2016 to be eligible to participate.
Interns will receive $50 for four (4) hours or $100 for eight hours (8) of service. Compensation will be made after the annual meetings. Preference will be give to students who can work longer shifts or multiple shorter shifts.
Selected interns will be notified of their positions by October 5, and will be required to "accept" their position within 2 weeks. If selectees do not respond, their positions will be offered to other applicants. Students who are not selected will be notified after all positions are officially filled.
Grad Students - there's so much happening at the Annual Meetings
Make sure you add these events to your schedule.
In the meantime, check out this article by Grad Student Committee Chair, Rachel Owen, about her experience or this one on 6 Ways to Stand Out at a Conference.
These sessions are designed by the graduate student committee specifically for graduate students. We thank the program planning committee for helping us bring these to all students at no cost.
❖ ❖ ❖

2016 GRADUATE STUDENT SESSIONS
Sunday, November 6, 2016: 4:00 PM-6:00 PM
The first half of this session starts with a brief and informative overview of professional networking, followed by a fun interactive workshop. The second half of the session is focused on networking with professional mentors from diverse fields, as well as with other graduate students in a casual environment. Sign-Up Here
Monday, November 7, 2016: 9:30 AM-11:00 AM
This session will give students, post-docs, and early career members an opportunity to speak with experts in various career paths, in order to gain a better understanding of career options in our discipline. Experts will represent Academia, Government, Extension, Industry, International, NGO/Non-Profit, and Consulting career opportunities.
Monday, November 7, 2016: 1:00 PM-2:30 PM
In this session, you'll learn more about what a behavioral interview is and how to best prepare for one while still being yourself. Behavioral questions deal with your responses to people and it is important to prepare by thinking about people you have worked with and the interactions you've had, both good and bad.
Tuesday, November 8, 2016: 12:00 PM-1:30 PM
This session will give you the knowledge and tools to more effectively engage in science policy. Attendees will get an "advocacy 101" lesson and learn why it's so critical for scientists and grad students to engage in advocacy.
Sign-Up Here

Tuesday, November 8, 2016: 5:30 PM-6:45 PM
Come watch grad students and postdocs compete against each other to best describe their research in 45 seconds or less. Preregistration is required to participate, all are welcome to come watch and cheer on your favorite speaker. Sign-Up Here
Wednesday, November 9, 2016: 8:30 AM-11:30 AM
Interested in learning how to write about your research for new audiences, communicating its importance to various stakeholders, and finding more ways to make your research matter? In this interactive workshop, we will discuss effective science communication skills and provide you with the tools to write and speak about your own research to a variety of audiences. Sign-Up Here
Wednesday, November 9, 2016: 12:00 PM-1:30 PM
A panel of established experts with an in-depth understanding of the funding arena and future of ACS
research will discuss the "sleeping giant" topics of research including the
perceived disconnect between relevant research and available funding, as well as the perpetual "battle" of basic vs. applied fields.

The following are sessions organized by the Early Career Members Committee.
Graduate students are invited to attend all of these sessions.
Monday, November 7, 2016: 9:30 AM-11:00 AM
Participants will learn about the process of writing a manuscript for publication through a hands-on workshop, and get feedback on their choice of problem statement, objectives, and conclusions.
Monday, November 7, 2016: 3:15 PM-4:45 PM
This program is a continuation of the 'Writing Manuscripts for Publication Workshop'. It takes the publishing process another step forward by covering topics specifically related to publishing in the Societies' journals.
Tuesday, November 8, 2016: 9:30 AM-11:00 AM
In this presentation, "Tooling Up" columnist Dave Jensen will discuss how important it is to understand all of the issues surrounding that prospective job offer, from both sides of the fence. By putting yourself in the shoes of your potential employer, you'll be able to see exactly how issues like time, budget and personality fit into the equation.
Tuesday, November 8, 2016: 12:30 PM-2:00 PM
A panel of speakers will give participants CV preparation tips and interviewing techniques for jobs in academia, industry, government or private practice.
This session will be interactive and informal; each speaker will give a brief introductory presentation, then time will be devoted to answering questions from the participants.
Tuesday, November 8, 2016: 1:30 PM-4:30 PM
This session includes material about the seven styles of leadership, building trust through meaningful relationships, and inspirational stories of successful women.The workshop will involve presentations by Michael S. Seaver (an executive coach and leadership consultant from Seaver Consulting LLC) with a reception and round-table discussion to follow.
This Workshop is only $15 for Graduate Students ($25 after September 21st)!
Be sure to add this event to your meeting registration.
Tuesday, November 8, 2016: 2:00 PM-4:00 PM
This session will provide insights and knowledge based on the experiences acquired by professional teachers and extension specialists for building a successful and active adult learning environment. A panel of in-class university educators and university extension specialists will present on effective tools, tactics, and realistic expectations for early career members.
Wednesday, November 9, 2016: 9:00 AM-11:00 AM
Early career, graduate student and other society members will learn how to approach the grant writing process for Federal/International funding agencies. Participants will also be given successful tips and approaches to obtaining competitive grant funding. Representatives of AAAS, DOE, NSF, USAID and/or USDA agencies will be targeted as speakers.