Graduate Student Leadership Conference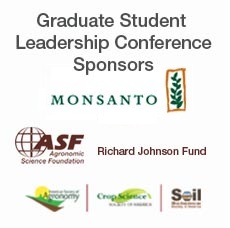 The ACS Graduate Student Committee will host the fourth Graduate Student Leadership Conference in Tampa, FL this fall in conjunction with the ASA, CSSA, and SSSA International Annual Meeting. The purpose of the conference is to provide professional and leadership development to graduate students, and the conference will include sessions on networking, professional etiquette, leadership, and oral and written communication.
The conference begins on Saturday with skills building and networking, and continues on Sunday with leadership sessions that will lay the foundation for your week. It then moves into a design-your-own experience that allows you to get the most out of the leadership conference while still getting the most out of your week at the Annual Meeting.
View last year's schedule for a rough outline of this year's conference:
Saturday
1:30 – 2:30 pm - Introduction and Icebreaker
2:30 pm – 3:30 pm - Leadership Ethics
3:30 pm – 4:00 pm - Break
4:00 pm – 5:00 pm - Personal Branding and presenting yourself as a leader.
5:00 pm – 5:30 pm - Getting Involved in the Societies
5:30 pm - Dinner on your own
Time TBD - Social
Sunday
7:00 am – 7:20 am - Breakfast
7:30 am – 10:30 am - Understanding your Leadership Personality
This is a practical hands-on learning session that explores what it means to be a leader within the scientific domain. You will learn about your preferences and priorities in communicating, approaching work, and building relationships using the Everything DiSC-Worplace® self-assessment.
10:30 am - 11:00 am - Break
11:00 am - 12:30 pm - Conflict Management
This session builds on Saturday's leadership session. You will learn about four typical approaches to conflict related to DiSC® style: Direct, Empathic, Diplomatic, and Analytical. you will understand which of these approaches is most natural for you and how to become more skilled at positively resolving conflict by using effective behaviors from all four approaches.
12:45 pm – 1:45pm - Lunch with the ASA, CSSA, and SSSA Leadership
This marks the end of the scheduled portion of the conference. To earn your Leadership Certificate, you must then attend at least two sessions that take place throughout the meeting (sessions will be posted soon). (Note that you will be required to sign in and out of the sessions.)