Hotels
2018 ASA & CSSA Annual Meeting Hotel Informaiton coming by early 2018!
The majority of the Meeting will be held at the Tampa Convention Center and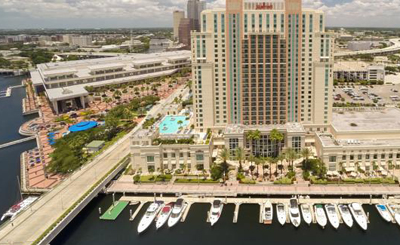 at the headquarter hotel, Marriott Tampa Waterside.
ASA-CSSA-SSSA negotiated discounted hotel rates for you within walking distance to the Tampa Convention Center; these discounted hotel rates ranged from $184-$235 per night for single, and were guarenteed at that rate until Sept. 27, 2017. A small number of rooms at government rate were also negotiated, but went quickly (housing opened in February, 2017).
Hotels within our block are always first-come, first served. Most hotels are now full; to check availablity, please call the hotels directly. Since the guarenteed rate deadline has passed, we can no longer guarentee your hotel room rate, but please do tell them that you are with ASA-CSSA-SSSA so that you get connected to the Societies' block of rooms.
All hotel reservations, changes, cancellations, and questions are now serviced by the hotels themselves (was previously serviced by Orchid Event Solutions.)
(1) Marriott Tampa Waterside-Headquarter Hotel
813-221-4900
(2) Hilton Tampa Downtown
813-204-3000
(3) Embassy Suites by Hilton
813-769-8300
(4) Westin Tampa Harbour Island
813-229-5000
(5) Sheraton Tampa Riverwalk
813-223-2222
(6) Barrymore Tampa Riverwalk
813-223-1351

The Westshore Grand, A Tribute Portfolio Hotel, Tampa
813-286-4400
** Located 4.4 miles from the Tampa Convention Center and providing complimentary transportation
Hampton Inn & Suites Ybor-Tampa**
813-247-6700
** Located 1.8 miles from the Tampa Convention Center
Le Meridien Tampa
813-221-9555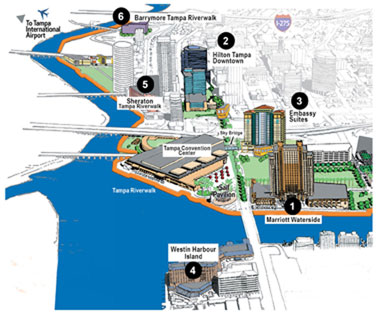 Deposit
All reservation requests must be accompanied by a credit card guarantee or check.
Acknowledgments
Reservations made directly with a hotel will receive confirmation according to the hotel's policy.
Cancellations & Changes
Cancellations received after Sept. 7, 2017, will be subject to a $40 cancellation fee. Cancellations within 72 hours of the arrival date will forfeit one night's room plus tax charge.