Morning Yoga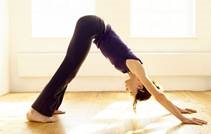 Stay energized by participating in complimentary morning yoga! A certified instructor from M Power Yoga will guide conference attendees in integrating the peace found in yoga class in to your everyday life, including during the Annual Meeting. 
 
Tuesday, November 6, 6:30-7:30am.                  This free event is first-come, first-served. 
Hyatt Regency Baltimore, Room TBA                Yoga mat available for the first 40 people. 
                                                                                                                        Come join us! 
Sponsored By: