Undergraduate Program
November 5, 2016 - November 7, 2016
2016 Undergrad Dates and Dealines - coming soon
Students should plan on arriving November 4 and departing on or after November 8.
2015 Annual Meeting Recap!
The Students of Agronomy, Soils, and Environmental Sciences (SASES), the undergraduate student program of ASA, CSSA, and SSSA, met in Minneapolis for their Annual Meetings, November 14 - 16, 2015. Meeting highlights included educational tours and professional development programs, national competitions and business meetings. Other highlights included the ever popular Quiz Bowl, Research Symposium Contests, and election of new student officers.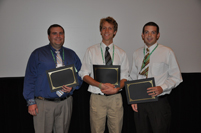 For more information, contact
Emily Fuger
Membership Representative –Students and Early Career Activities
608-268-4949, efuger@sciencesocieties.org.

The registration fee covers admission to all SASES programs including meal functions and socials, and admission to all ASA, CSSA, and SSSA International Annual Meetings functions. It does not include the tour. Note: Your undergraduate registration includes access to the full ASA, CSSA,and SSSA Annual Meetings.
Registration Fees for Undergrad Members is less than that for Undergrad Non Members. As an undergrad, you can join one, two, or all three societies for only $20. It's cheaper to join, then register for the meetings! Sign up for membership today!
Contests
Click on the links bleow to view winners and more information.
| | | | |
| --- | --- | --- | --- |
| | Contest | Sign up opens: | Sign up by: |
| Closed | Research Symposium - Oral | March 15, 2016 | May 24, 2016 |
| Closed | Research Symposium - Poster | March 15, 2016 | May 24, 2016 |
| Closed | Club Poster Contest | March 15, 2016 | May 24, 2016 |
| Closed | Metcalfe Manuscript Contest | March 15, 2016 | Sept 22, 2016 |
| Closed | Presidents' Trophy | March 15, 2016 | Sept 22, 2016 |
| Closed | Speech Contest | March 17, 2015 | Sept 22, 2016 |
| Closed | Visual Presentation Contest | March 17, 2015 | Sept 22, 2016 |
| Closed | Quiz Bowl | March 15, 2016 | Sept 22, 2016 |
| Closed | Crops Judging Showcase | March 15, 2016 | Sept 22, 2016 |
Pop with the Presidents
Join the current, past, and incoming Society Presidents for free pizza on Monday, November 7, 2016 at noon. The event is free, but RSVP is required and space is limited. Sign up opens soon.
Meeting Internships
Want to contribute to the success of the annual meetings and earn cash? Sign-up now to help ASA, CSSA, SSSA staff with various meeting activities
The internship program is open to postdocs, graduate, and undergraduate student members of the Societies. Nonmember students wishing to become a member may join at agronomy.org, crops.org, or soils.org. Membership is available at a low cost to students. Please join by September 29 to be eligible to participate. Interns will receive $50 for four (4) hours or $100 for eight hours (8) of service. Compensation will be made after the annual meetings. Preference will be give to students who can work longer shifts or multiple shorter shifts.
Selected interns will be notified of their positions by October 5, and will be required to "accept" their position within 2 weeks. If selectees, do not respond, their positions will be offered to other applicants. Students who are not selected will be notified after all positions are officially filled.
Questions can be directed to students@sciencesocieties.org.
Internship Sign-up will open in summer.
Tours
These tours are specifically and exclusively for undergraduates. All tours are taking place Saturday, November 14, 2015. You may choose which tour you'd like to go on when you submit your registration for the Annual Meeting. (Actual tour stops are subject to change.)
Tour Descriptions will be posted by August.
Professional Development

The Career Fair will once again be held on Monday 3pm - 6pm in the Career Center. Join us and lots of potential employers on November 7 .
Socials
For photos from 2015 Social visit the SASES Facebook page.
FAQ
How should I dress for the meeting?
Check out this document for an overview. Also go to the Facebook page to see images of studetns from last year.
How do I add/change which tour I signed up for?
Go to one of the society websites (www.agronomy.org / www.soils.org / www.crops.org).
Login (under the society logo) using your email address and password
> Click on My Account (to the right of the search button).
> Click on My Account in the drop down menu.
> Click on My Transactions under My Account on the right hand side.
> Click on My Receipts (on the left hand side).
> Choose the invoice for the Annual Meetings.
You can print this as a receipt or add/remove items to/from your registration. Credit card payment is required when adding items. Removing an item will create a credit. Please remember that there are cancelation fees charged for cancelation items. Please view the cancelation policy at www.acsmeetings.org/registration.
If you have any questions regarding making changes to your registration, please contact Lynne Navis at lnavis@sciencesocieties.org