Registration

Print the Registration Form (PDF) and return it by:
Email: lnavis@sciencesocieties.org
Fax: 608-273-2021
Mail: ASA, CSSA, and SSSA
5585 Guilford Road, Madison, WI 53711
No telephone registrations will be accepted.
Registration Questions: lnavis@sciencesocieties.org
Membership Saves
Not a member? Join now for as little as $100. Society members save more than $200 on registration and receive all the benefits of membership.
Students save even more. Join Now*! ASA | CSSA | SSSA

*Membership must be obtained prior to registering to receive the member rate.
The difference in the member/nonmember rates will not be refunded if membership is received after registration.
Registration Rates
Registration Rates listed below include a printed program book. If you'd prefer to use the MySci Mtgs App and not receive a program book please indicate this while registering. A credit of $20 will be applied to your registration fee.
Registration Rates

On or
before
Sept 21

On or
before
Oct 12


After
Oct 12

ASA, CSSA, or SSSA Professional Member

$525

$595

$675

Nonmember

$745

$815

$895

Emeritus Member

$270

$335

$405

Graduate Student Member

$270

$335

$405

Early Career Member*

$425

$490

$560

One Day Member

$380

$380

$380

One Day Nonmember

$480

$480

$480

Two Day Member

$520

$520

$520

Two Day Nonmember

$740

$740

$740

Undergraduate Student Member (SASES)

$85

$85

$105

Spouse**

$50

$60

$70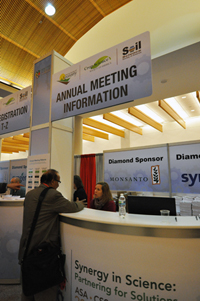 *An Early Career Member is a society member who have completed their terminal degree within the past 7 years and completed their Education History section of their "About Me" membership record.
**A Spouse is an individual whose professional interests are not related to soil, agronomic, crop, or environmental sciences or are employed in the industry . Spouse registration includes a name badge that allows access to the exhibit hall and entrance to the opening and closing receptions.
Adding an Event or Printing a Receipt:
Payments, Cancellation and Refund Policy:
Make checks payable to ASA-CSSA-SSSA (must be drawn on a U.S. bank in U.S. funds, including routing numbers). Accepted credit cards include Master Card, Visa, Discover, and American Express. Registration forms without payment will not be processed.

Cancellation requests received in writing on or before September 21, 2016, will be refunded the entire fee.
Cancellation requests received in writing from September 22 through October 12, 2016 will be refunded the entire amount, less a $100 administrative fee.

There are no refunds for registrations and all tours, workshops, and meal functions after October 12, 2016.
Onsite Registration Center



Phoenix Convention Center, 3rd Floor
Sunday, Nov. 6; 8:00 am–8:00 pm
Monday–Tuesday, Nov. 7-8; 7:00 am–5:00 pm
Wednesday, Nov. 9; 7:00 am–2:00 pm
Express Preregistration



Registered Already? Need to pick up minimal meeting materials?
Experience the "light" version of preregistration located at the Sheraton.
Print off your badge.
Pick up your program book.
Save time!
Saturday, Nov. 5; 2:00 pm–5:00 pm
Sunday, Nov. 6; 10:00 am–12:00 pm