Registration
Need to renew your membership before registering? You can renew online here: ASA|CSSA|SSSA or call the membership department at 608-273-8080 for assistance.
Registration for the 2018 ASA & CSSA International Annual Meeting coming by early 2018!
Registration Questions: lnavis@sciencesocieties.org
Membership Saves
Not a member? Join now for as little as $100. Society members save more than $200 on registration and receive all the benefits of membership.
Students save even more. Join Now*! ASA | CSSA | SSSA

*Membership must be obtained prior to registering to receive the member rate.
The difference in the member/nonmember rates will not be refunded if membership is received after registration.
Registration Rates
Registration Rates listed below include a printed program book. If you'd prefer to use the MySci Mtgs App and not receive a program book please indicate this while registering. A credit of $20 will be applied to your registration fee.
2017 Registration Rates

On or
before
Sept 7

On or
before
Sept 27

After
Sept 27

ASA, CSSA, or SSSA Professional Member

$550

$625

$705

Nonmember

$780

$860

$940

Emeritus Member

$270

$335

$405

Graduate Student Member

$270

$335

$405

Early Career Member*

$450

$515

$585

One Day Member

$395

$395

$395

One Day Nonmember

$495

$495

$495

Two Day Member

$550

$550

$550

Two Day Nonmember

$780

$780

$780

Undergraduate Student Member (SASES)

$85

$85

$105

Guest (non-industry only)**

$50

$60

$70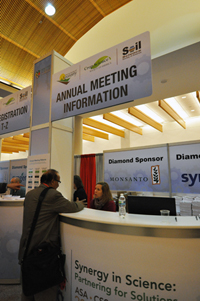 *An Early Career Member is a society member who have completed their terminal degree within the past 7 years and completed their Education History section of their "About Me" membership record.
**A Guest (non-industry only) is an individual whose professional interests are not related to soil, agronomic, crop, or environmental sciences or are employed in the industry . Guest registration includes a name badge that allows access to the exhibit hall and entrance to the opening and closing receptions.
Payments, Cancellation and Refund Policy:
Make checks payable to ASA-CSSA-SSSA (must be drawn on a U.S. bank in U.S. funds, including routing numbers). Accepted credit cards include Master Card, Visa, Discover, and American Express. Registration forms without payment will not be processed.

Cancellation requests received in writing on or before September 7, 2017, will be refunded the entire fee.
Cancellation requests received in writing from September 8 through September 27, 2017 will be refunded the entire amount, less a $100 administrative fee.

There are no refunds for registrations and all tours, workshops, and meal functions after September 27, 2017.