Webinar: Make Your Abstract Compelling
View this webinar, recorded on March 16, 2017, sponsored by the ASA, CSSA, and SSSA Career Center.
"Yes You Can ... Make Your Abstract Compelling!"
FREE to all members. Log in required.
View the webinar now at ASA | CSSA | SSSA
Abstract submissions are open through June 5.

Poster Presentations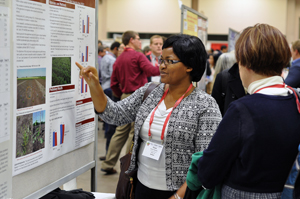 All posters will be displayed on a half-size poster board (display space can be no larger than 44.5" x 44.5") for one day.
 
All presenters will present for a two-hour period on one day. A poster board number will be placed in the upper left corner of the board on a 4½" x 3" card. The poster boards are Velcro-friendly. Please bring your own Velcro.
| Day | Set-up Time* | Display Time** | Removal Time*** |
| --- | --- | --- | --- |
| Monday | 7:00 – 9:00 am | 9:00 am – 6:00 pm | 6:00 – 6:15 pm |
| Tuesday | 7:00 – 9:00 am | 9:00 am – 6:00 pm | 6:00 – 6:15 pm |
| Wednesday | 7:00 – 9:00 am | 9:00 am – 4:30 pm | 4:30 – 4:45 pm |
*Note: posters cannot be set up the previous night.
**Authors must be at their poster during the session time listed in the program.
***Posters remaing after removal time will be removed and discarded.
Before you begin your abstract submission:
Student Advisors: Your student must submit their own abstract. Students must be signed in as themselves in order to receive the discounted student abstract rate.
Nonrefundable abstract fees for:
March 13 - May 22  
  May 23 - June 5  
All Non-Members
$75
$100
Professional Members
$50
$70

Graduate and Undergraduate Student Members*
*You must be a student member of the Societies.

$30
$50
Important Dates  
Early abstract deadline: May 22, 4:00 PM CDT
Final abstract deadline: June 5, 4:00 PM CDT
     -All abstracts must be initiated by this date.
     -Submissions can be edited through August 23.
Program published online: Late July
Abstract editing deadline: Aug. 23*, 4:00 PM CDT
*This is the editing deadline for the printed program book and abstract USB. Edits can continue to be made for the online program and app.
Promote your presentation with the Annual Meeting Poster.
Society Logos for Presentations
ASA and CSSA logos are available for you to use in your presentations:
Membership Saves
Not a member?  Join now for as little as $100.  Society members save more than $200 on registration, at least $25 in abstract fees, and receive all the benefits of membership. 
Students save even more.   Join Now*!   ASA | CSSA 

 *Membership must be obtained prior to registering/submitting to receive the member rate.
  The difference in the member/nonmember rates will not be refunded if membership is received after registration/submission.